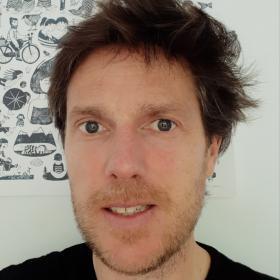 Miele

Vincent

Ingénieur de recherche

CNRS
I am working in CNRS @ Biometry and Evolutionary Biology Lab. With a background in mathematics and computer science, I am involved in projects in ecology, on two main axes :
 ecological networks : analysing original datasets, proposing new methodological developments and helping non specialists (see this "quick tips" paper) ;
 image, ecology & deep learning : as a leader of the imaginecology initiative (see imaginecology website), developping computer vision pipelines and sharing knowledge with other ecologists.

SELECTED WORK
For a complete list, I am almost 100% degooglized, but you can still have a look at my scholar profile.
Noa Rigoudy, the DeepFaune consortium, Bruno Spataro, Vincent Miele, Simon Chamaillé-Jammes, The DeepFaune initiative: a collaborative effort towards the automatic identification of the French fauna in camera-trap images, Preprint bioRxiv (2022)

Vincent Miele, Stéphane Dray et Olivier Gimenez, Images, écologie et deep learning, Regards sur la biodiversité, Société Française d'Écologie et d'Évolution (2021)
Vincent Miele, Gaspard Dussert, Bruno Spataro, Simon Chamaillé-Jammes, Dominique Allainé & Christophe Bonenfant, Revisiting giraffe photo-identification using deep learning and network analysis. Methods in Ecology and Evolution (2021) Preprint bioRxiv / Media coverage : France 3, RFI
Christophe Botella, Stéphane Dray, Catherine Matias, Vincent Miele, Wilfried Thuiller, An appraisal of graph embeddings for comparing trophic network architectures. Methods in Ecology and Evolution (2021)
Vincent Miele, Catherine Matias, Marc Ohlmann, Giovanni Poggiato, Stéphane Dray, Wilfried Thuiller, Quantifying the overall effect of biotic interactions on species communities along environmental gradients. Preprint HAL (2021)
Vincent Miele, Catherine Matias, Stéphane Robin & Stéphane Dray, Nine Quick Tips for Analyzing Network Data. PLoS Comp. Biology (2019)
Catherine Matias & Vincent Miele, Statistical clustering of temporal networks through dynamic a stochastic block model. Journal of the Royal Statistical Society : Series B (2016) Arxiv
 Project member :
 Board member
 Reviewer :
 Jury member :
INRA IRE01, 2022 (président)
HCERES MISTEA, 2020
INRA IRE01, 2018 (président)
 Organizing commitee :
Journées du groupe Calcul , November 2010.
Le coté Calcul de Jobim , June 2009.
Mathematics for Biological Networks , December 2007
European Conference on Computational Biology, September 2003
Here  (c)  means "co-supervision"
Elias Chetouane, M2 Informatique et Données,  Deep learning for camera traps, 2022
Marine Desprez (c) , Post Doc, Machine learning in ecology, 2022
Bastien Payre, M2 Maths en action, Deep learning et séquences d'images, 2021
Nathan Levray, M2 Maths en action, Higher order networks, 2021
Noa Rigoudy (c), ENS Lyon, Deep learning for camera traps, 2021
Julien Bonnier (c), M2 BEE, reconnaissance des pollens, 2021
Giusseppe Capizzi, M2 Data Science, Machine learning for botanics, 2020-21
Christophe Botella (c), Post Doc, Graph embeddings, 2020-21
Thibault Genissel (c), ENS Lyon, Réseaux de contact entre ongulés, 2020
Gaspard Dussert, ENSTA, imaginecology, 2019
Claire Gayral, M2 Maths en action, Algorithme EM classifiant dans dynSBM, 2018
Gonché Danesh (c), M2 Bioinformatique, Simulation de HTT, 2017
Florent Tessier, M2 Bioinformatique, Génomique comparative du manchot, 2015
Mamadou Dione, M2 Mathématiques, Etude de la température corporelle des marmottes en lien avec les conditions climatiques, 2014
Camille Marchet (c), Software Engineer INRIA Bamboo, 2013-2014
Thomas Bigot (c), Software Engineer ANR Ancestrome, 2013-2015
Mathilde Boutigny, M1 Ingénieur, Développement du package kissplice2reftranscriptome, 2014
Alice Julien (c), Software Engineer INRIA Bamboo, 2012-2013
Patrick Tran Van, L3 UCBL, Intégration de programmes de calcul dédiés aux NGS dans le système GALAXY, 2012
Vincent Lanore, M1 ENS Info, Hybrid parallel computing applied to DNA processing, 2011
Aurélie Siberchicot (c), CDD ANR, 2010-11 (C++ development manager)
Marie Jorandon, M1 INAPG, Etude statistique de données NGS sur l'espacement des nucléosomes, 2009
Laurent Modolo, L3 UCBL Bio, Packaging d'une application de recherche de motifs, 2008
Ingénieur Mathematics and Modelling - Polytech Clermond-Ferrand
Master Applied Mathematics - University of Clermont Auvergne
Publications
Display of 1 to 30 publications on 48 in total