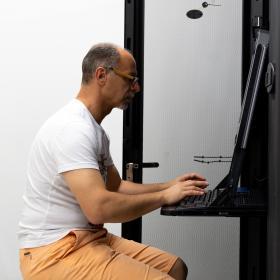 Spataro Bruno
Ingénieur de recherche
CNRS
En tant qu'expert des systèmes et des réseaux, je suis en charge de l'organisation et de la structuration générale du Système d'Information (SI) du laboratoire.
Ceci concerne notamment :
en lien avec le PRABI (Pôle Rhône-Alpes de Bioinformatique), le laboratoire héberge et opère un cluster de calcul d'un millier de cœurs et plusieurs volumes de stockage représentant un volume de plus de 500 To. Ce système a exécuté près de 4 millions d'heures de calcul chaque année. Stéphane Delmotte et moi-même assurons l'administration de cet outil, depuis la gestion de l'achat des machines jusqu'à la formation des utilisateurs en passant par la mise en service, la configuration, l'installation des logiciels, le monitoring et la gestion des comptes.
en plus des applications liées au calcul scientifique, j'assure le développement et la mise en service d'applications « métiers » utiles au bon fonctionnement de l'unité (réservation de salles, agenda partagés, listes de diffusion, système de fichiers partagés...) et généralement accessible via le portail intranet du laboratoire.
dans un environnement très hétérogène et terme de niveau de connaissance informatique, je participe, avec l'ensemble des membres du pôle informatique, à la formation, à l'accompagnement et au support des utilisateurs. Ceci se traduit par des sessions de formation à l'utilisation des ressources du laboratoire (cluster, stockage, site web…), à des réunions de suivi (réunion « cluster ») et surtout à un échange permanent avec les utilisateurs aussi bien pour la recherche de la meilleure solution matérielle et logicielle à mettre en œuvre que pour le suivi de leur projet.
Mon rôle au sein de l'unité me positionne comme l'interlocuteur du laboratoire pour la Direction duSystème d'Information (DSI) de l'université Lyon I et pour le Centre Inter-établissements pour les services et le Réseau (CISR) du campus de la DOUA.
Je suis également intégré à des réseaux métiers tels que ARAMIS (réseau d'administrateurs réseaux et système et de développeurs de la région Rhône-Auvergne) ou les groupes calcul et calcul-ASR du CNRS.
Je participe enfin à des projets nationaux autour des infrastructures pour la bioinformatique notamment en tant que membre du comité technique du projet IFB-core.
Publications
Display of 1 to 11 publications on 11 in total
The DeepFaune initiative: a collaborative effort towards the automatic identification of the French fauna in camera-trap images
DILS: Demographic inferences with linked selection by using ABC
Molecular Ecology Resources .
Revisiting giraffe photo-identification using deep learning and network analysis
IFB-Biosphère : Services cloud pour l'analyse des données des sciences de la vie
Journées RESeaux - JRES 2019 .
RENABI GRISBI Infrastructure Distribuée pour la Bioinformatique
JOBIM 2011 - Journées Ouvertes Biologie Informatique Mathématique .
Utilisation de grilles de calcul pour la génomique comparative
Rencontres Scientifiques France Grilles 2011 .
ReNaBi-GRISBI: grande infrastructure pour la bioinformatique
JOBIM 2010 - Journées Ouvertes en Biologie, Informatique et Mathématiques .
Cartographie génomique comparée chez les mammifères
Médecine/Sciences . 18 : 767-774
Modeling comparative mapping using objects and associations
Computers and Chemistry . 26 : 413-420
Comparative genomic mapping in mammals
Médecine/Sciences . 18 : 767-774
GeMME une interface modélisant la cartographie comparée des mammifères Application
incollection . -- : 333-340