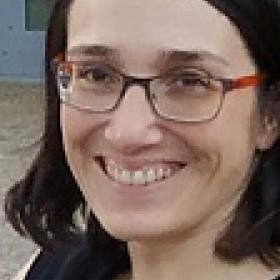 Almost 50% of our genome is made of transposable elements, which are sequences able to move and multiply along the chromosomes. Among these sequences, endogenous retroviruses are remnants of ancient viral infections, which are now transmitted from one generation to another in a gene-like manner.
Within and between species dynamics of transposable elements
Our group is interested in the dynamics of these sequences in the genomes of natural populations, based on the twin species model D. melanogaster / D. simulans. The amount of transposable elements in the genomes of these natural populations is highly variable, as are the activity and regulation of these sequences. This allows a powerful comparative approach to dissect the involved mechanisms.
In order to understand the observed variability, we are investigating the epigenetic control of TEs, particularly via the piRNA class of small interfering RNAs. We are exploring the link between differences in TE dynamics and variability in the regulation by piRNAs, using sequencing data as well as laboratory experiments.
Epigenetics and genome stability: how the environment affects transposable element stability
We study genome stability through the diversity of the epigenetic pathways controlling TEs, in normal conditions and when the environment changes. We use fresh Drosophila samples coming from temperate (France) and tropical (Brasil) areas, that are submitted to various environmental stress. We then characterize TE content and activity as well as epigenetic regulation using NGS technologies.
Endogenous Retroviruses and Immunity
We want to investigate the interplay between the host immune responses to arbovirus (Arthropod Borne virus) infections and the TE and Endogenous Retroviruses (ERV) genomic control mechanisms (RNA interference: piRNA and siRNA pathways) using Drosophila as an in vivo model system. To this end, we will take advantage of the natural variability existing between and within species for ERVs (copy numbers, activities, and control by the piRNA pathway).
 
Publications
Display of 1 to 20 publications on 20 in total
The worldwide invasion of Drosophila suzukii is accompanied by a large increase of transposable element load and a small number of putatively adaptive insertions
Transposable elements in Drosophila
Dynamic Interactions Between the Genome and an Endogenous Retrovirus: Tirant in Drosophila simulans Wild-Type Strains
Transposable Element Dynamics in an Invasive Species
Congrès National des Éléments Transposables (CNET 2018) .
An attempt to select non-genetic variation in resistance to starvation and reduced chill coma recovery time in Drosophila melanogaster
The somatic piRNA pathway controls germline transposition over generations
Self and Nonself from a Genomic Perspective: Transposable Elements
Evolutionary Biology: Self/Nonself Evolution, Species and Complex Traits Evolution, Methods and Concepts . 2 ( 5 ) : 111-128
TEtools facilitates big data expression analysis of transposable elements and reveals an antagonism between their activity and that of piRNA genes
Host Control of Insect Endogenous Retroviruses: Small RNA Silencing and Immune Response
Variable expression levels detected in the Drosophila effectors of piRNA biogenesis
Gene . 537 ( 1 ) : 149-153
Maternally deposited germline piRNAs silence the tirant retrotransposon in somatic cells
EMBO Reports . 14 ( 5 ) : 458-64
tirant, a newly discovered active endogenous retrovirus in Drosophila simulans.
A comparative analysis of the amounts and dynamics of transposable elements in natural populations of Drosophila melanogaster and Drosophila simulans.
Journal of Environmental Radioactivity . 113 : 83-86
Evolutionary Origin and Functions of Retrogene Introns
Molecular Biology and Evolution . 26(9) : 2147-2156
Genomic environment influences the dynamics of the tirant LTR retrotransposon in Drosophila.
Infra- and Transspecific Clues to Understanding the Dynamics of Transposable Elements
genome dyn stab . -- : 115-123
Genomic environment influences the dynamics of the tirant LTR retrotransposon in Drosophila
FASEB Journal . 23 : 54-62
The evolution of retrotransposon regulatory regions and its consequences on the Drosophila melanogaster and Homo sapiens host genomes
Gene . 390 ( 1-2 ) : 84-91
Evolutionary Pathways of the tirant LTR Retrotransposon in the Drosophila melanogaster Subgroup of Species
Journal of Molecular Evolution . 64 : 438-447
Ongoing loss of the tirant transposable element in natural populations of Drosophila simulans