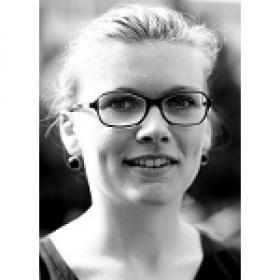 Siberchicot

Aurélie

Ingénieure d'étude

UCBL
As a software engineer, my work consists in designing, developing, deploying and maintaining biological data analysis tools. As an expert of the R language and software, I am in charge of many R packages which are available on CRAN, Bioconductor, GitHub and GitLab and of web applications developed with the shiny package. I am regularly associated with training and teaching modules, and I share, at these occasions, my knowledge and experience regarding the reproducibility of research and good development practices.
Evolutionary Ecology
Ecotoxicology
Genetics and Genomics
Mathematical Statistics
IT services
Organization and Program Committee
Trainings and Courses
UE Visualization of Biological Data, M2 Bio-informatique, Lyon
Programming with R: from the simplest to the most complex, Groupe Lyon Calcul
Build your own package in R, ANF CNRS
Competition Jury
Concours externe INRA (2019) AI BAP E Assistant.e statisticien.ne
Concours externe INRA (2019) IE BAP E Administrateur.trice des systèmes d'information
Concours externe CNRS (2017) IE BAP E Développement et déploiement d'applications
Supervision
Eliane Schermer, stage M2 et thèse, Modélisation en écologie (2015-2019)
Luka Matsuda, stage L3, Bioinformatique, Statistique et Modélisation (2018)
Adrien Bessy, stage M2, Bioinformatique (2015)
Publications
Display of 1 to 17 publications on 17 in total
Lifespan decreases with proportion of sons in males but not females of zoo‐housed tigers and lemurs
Sex‐specific actuarial and reproductive senescence in zoo‐housed tiger ( Panthera tigris ): The importance of sub‐species for conservation
Pollen limitation as a main driver of fruiting dynamics in oak populations
Maternal reproductive senescence shapes the fitness consequences of the parental age difference in ruffed lemurs
Proceedings of the Royal Society B: Biological Sciences . 285 ( 1886 ) : 20181479
Multivariate Analysis of Ecological Data with ade4
DRomics: A Turnkey Tool to Support the Use of the Dose–Response Framework for Omics Data in Ecological Risk Assessment
Environmental Science and Technology . 52 ( 24 ) : 14461-14468
MareyMap online: A user-friendly web application and database service for estimating recombination rates using physical and genetic maps
adegraphics: An S4 Lattice-Based Package for the Representation of Multivariate Data
The R Journal . 9 ( 2 ) : 198--212
Fruiting Strategies of Perennial Plants: A Resource Budget Model to Couple Mast Seeding to Pollination Efficiency and Resource Allocation Strategies
Unknown age in health disorders: A method to account for its cumulative effect and an application to feline viruses interactions.
Determining the instar of a weevil larva (Coleoptera: Curculionidae) using a parsimonious method
European Journal of Entomology . 111 ( 4 ) : 567-573
Conference Report: Deuxièmes Rencontres R
The R Journal . 5/2 : 164--165
Novel measures of linkage disequilibrium that correct the bias due to population structure and relatedness
Genetic structure and linkage disequilibrium in 4 Vitis species
Plant and Animal Genomes Conference . : np
Genetic structure and linkage disequilibrium in four Vitis species
10. International Conference on Grapevine Breeding and Genetics .
Genetic structure and linkage disequilibrium in 4 Vitis species
Grapevine breeding and genetics .
Genetic structure and linkage disequilibrium in 4 species of the Vitis genus